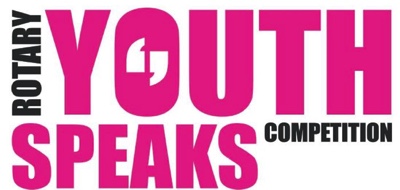 Through this competition, ROTARY encourages the development of creativity and presentation skills essential to the art of public speaking, and this is shown through the enthusiasm of the students from the many schools which take part. The Rotary GBI Youth Speaks competition, as a result, continues to go from strength to strength each year, producing some superb quality speakers in our young people aged from 11 to 18.
YOUTH SPEAKS IN DISTRICT 1220
For some time the Youth Speaks competition has not taken place in this District , however in 2017 Rotary Club of Gainsborough supported Gainsborough Grammar School, regular competitors in Youth Speaks, who went directly to the Regional Final.
This year D1220 would like to run a District competition. Any club interested should contact rotaryd1220youth@gmail.com  as soon as possible so a date can be secured.
IMPACT ON NATIONAL CURRICULUM
Clubs approaching schools and offering YOUTH SPEAKS as an opportunity for student advancement should emphasise it fulfils the following ;
PSHE & Citizenship – Key Stage 2 – Talk about their opinions and explain their views on issues that affect themselves and society. Research, discuss, debate topical issues, problems and events.
EnglishKeyStage2-Group discussion and interaction, take up and sustain different roles(chair, spokesperson). Speak with confidence, audibly and clearly. Gain and maintain interest and response of audience.
For further information download the linked document