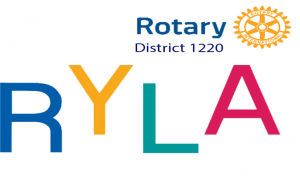 Rotary Youth Leadership Awards (RYLA)
Whitehall, Buxton
Information
The next RYLA weekend course at Whitehall, Buxton will be held from Friday, 11th to Sunday, 13th May 2018.     The cost of the course is £175 per student.   Attendance at the Whitehall Centre RYLA is available to students who at the time of the course are in years 8, 9 or 10.  (14 to 16 years.)
This course is not a holiday.  It is a fairly strenuous outdoor activity based training experience.  Activities will include rock climbing, caving, canoeing, abseiling etc. designed to develop students' self-awareness, public speaking, team building, leadership and other skills.  There will also be indoor activities with the same aims.  All aspects of the course will contribute towards these aims.  All specialist equipment that is required for the activities will be provided by the Centre.
Rotary Clubs are responsible for interviewing all potential candidates that they wish to sponsor and for payment of the appropriate fee.
Application Forms are now available on the website and can be downloaded as required. Alternatively, they can be obtained as a hard copy from Rtn Dave Ashley, Rotary Club of Belper and Duffield.    Please note that completed Applications forms will not be processed until full payment has been received, either by cheque, payable to "Rotary International District 1220", or by electronic payment into the District account.  (Contact District Treasurer for details)
Completed Application Forms and payment should be sent to Rotarian Dave Ashley, Rotary Club of Belper and Duffield.   Any queries regarding the Whitehall RYLA courses may be addressed to dave.ashley782@hotmail.co.uk   or Mobile 07738 552178.
Rotarians who are interested in assisting at this course should in the first instance contact Rotarian Dave Ashley (details as above) to discuss the requirements.   Copies of the Job Description and the Person Specification for Rotarians carrying out overnight supervision duties are available on the website (below).