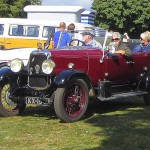 Record proceeds from a Classic Car and Bike Show held at Renishaw Hall last June have now been shared out between three worthy local charities. The annual event, organised by the Rotary Club of Chesterfield, this year raised over £7,000 resulting in healthy donations of £2,350 each being made to Ashgate Hospice, Bluebell Wood Children's Hospice, and Weston Park Hospital Cancer Charity.
Chesterfield Rotary president John Roberts presented the cheques at a special ceremony held at the Olde House, Newbold, on Friday 12 September to representative of the three charities. Also in attendance was Tony Cordin, group operations director of Autoworld, the charity event's main sponsor.
Main organiser, past president Stuart Bradley said: "There was a record turnout for the 2014 event which means Rotary this year is able to make another significant donation to these three deserving local charities."
He added: "Renishaw Hall is the perfect venue for this annual charitable event which we have run successfully for several years, raising thousands of pounds in support of these important local charities."
Ester Price from Ashgate Hospice reported that even more patients were being cared for and a new £1 million appeal was due to be launched in October. The aim is to raise funds to cover a £250,000 a year budget deficit for the next two years, and £500k needed for urgent building maintenance work on the original grade II listed building, which is believed to date back to 1674.
Helen Mower from Bluebell Wood reported that the donation would fund one month of children's activities in the messy play room; a room which is bursting with fun, games, arts and crafts, painting, and sensory play with activity coordinators.
Lucy King from Weston Park reported that the Cancer Hospital Charity was this year celebrating its 20th anniversary and was thankful to the many supporters who had helped raise over £16 million in that time. Weston Park is a leading centre for pioneering cancer research, treatment and care that provides vital services for the 60,000 cancer patients in this region.
The main sponsor of this charity event is Autoworld, one of the leading New and Used Car dealerships in Derbyshire and the Midlands. Other sponsors include:- CMC Motorcycles, PCS Motor Factors, Noble Motorsport, BRM Solicitors, Stuart Bradley Jewellers.
The date has been fixed for next year when the Classic Car & Bike Show will once again be held at Renishaw Hall on Wednesday 10 June 2015.
For more information about Chesterfield Rotary go to www.chesterfieldrotary.co.uk