President of the Rotary Club of Hucknall, Ian Young writes;
I was there, not for the whole weekend due to other Rotary commitments, but I was able to witness and support over 250 athletes competing in the renowned Rotary Disabled Sports Team Championships in Coventry this last weekend, as Rotary did its bit to find the paralympians of the future.
You can imagine how thrilled I was to receive a telephone call from PP Peter Pickering on Sunday evening to let me know that Hucknall's entrants had created history.
The elated team from Hucknall were crowned overall winners after taking gold in the men's weights and triathalon and podium finishes in other events as well as receiving the most improved team award. They defeated the outgoing champions South Yorks & Lincs who were aiming for a hat-trick of victories after winning in 2010 & 2011. The Rotary Club of Hucknall has entered a team for the last 23 years, and this year's team comprising of young athletes from Portland College was the first Hucknall team to take top honours.
It was a closely fought contest but Team Hucknall were declared the overall winners with 245 points, with Team Leicester in second place, taking home 241 points and Team Rugby in third with a healthy score of 223 points.
The annual sports competition, organised and sponsored by the five Rotary clubs in Coventry and supported by clubs across England, saw hundreds of spectators packing out the Xcel Leisure Centre in Canley on Saturday 10 November and Sunday 11 November.
The 10 teams of competitors, who have physical and learning disabilities, came from Avon, Coventry, Essex, Gloucestershire, Hucknall, Leicestershire, Rugby, South Yorkshire/ Lincolnshire, Wakefield, and Warwickshire,
Now in its 31st year, the Championships featured 13 disciplines: new age kurling, table tennis, table tennis for those with learning disabilities, rifle shooting, boccia team, boccia individual, darts, male weight lifting, female weight lifting, team pitstop, swimming, triathlon and the slalom.
The Xcel Leisure Centre in Canley, which opened in June 2008, is part of the South West Coventry regeneration scheme and largely administered by local Rotarians. The £9m centre has been hailed as the 'flagship' for the regeneration scheme that has been designed with the needs of the local community in mind. It is one of 3 that make up the Coventry Sports Foundation, a charity where direction provided by Coventry Rotarian Directors has created superb facilities, not just sport, in under-privileged areas of the City.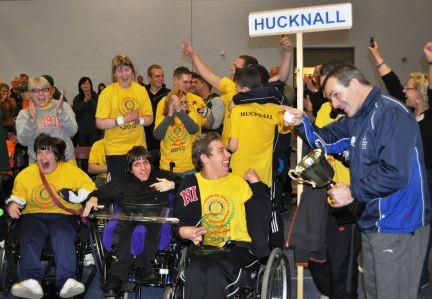 For more photographs click here: The 31st English Disabled Sports Team Championship
To find out more about the event, visit the organisers website http://www.rotarydisabledsports.org.uk/