Save the date! Wonderful news of local Rotarians pulling together to complete a challenge!
A great trio from across Gedling Borough – Mapperley & Arnold Rotary, Carlton Rotary, and Ravenshead and Blidworth Rotary – have taken on the challenge to raise funds to buy a minibus for Derrymount School in Arnold, Nottingham. The school serves youngsters with special needs from across the area.
The fundraising project is quite a challenge and they would welcome your help! They are looking for fundraising ideas and would value your time if you could work with them on this very important drive!
The three clubs have organised an open day for 24th June 2023 at Mapperley Plains Social Club Annexe for fun and fundraising and would love to see you there! They are looking for pioneers of a new style Rotary, ready to serve our community in a fun and very socially rewarding way. Please drop in!
Many thanks to Nexus Fostering who have kindly provided sponsorship.
As a district we are wholeheartedly supporting Derrymount School in their efforts to raise money for their much-wanted minibus. We have a dedicated bank account for the Derrymount School minibus into which you can send much appreciated donations.
Name on account – Rotary Club of Carlton
Type of account – Business
Sort Code – 20-55-68
Account number – 50444057
Ref – You may state here where the money is coming from if you wish! Or leave blank as an anonymous donation.
Find out more about the project by watching the video below!
Any questions, Susan Bye at Carlton Rotary would be happy to hear from you at carltonrotary@gmail.com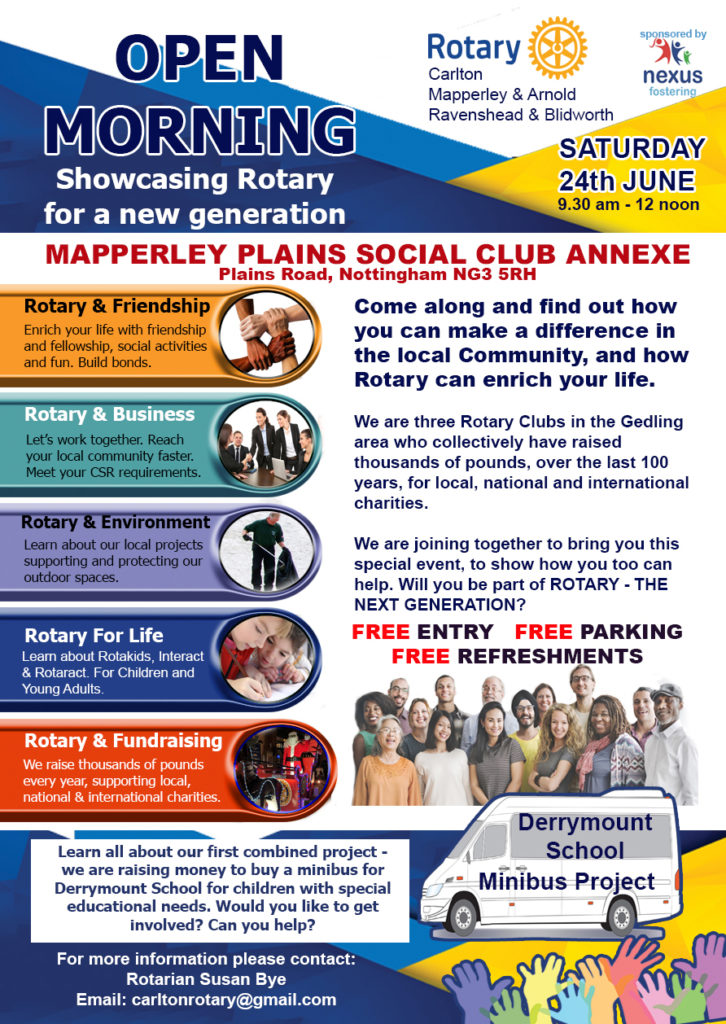 Tim Meek is a teacher at Derrymount School and has put together this video to highlight their valuable work. Please watch his video to see how you can help the school to maintain the high standard of education and experiences they provide.