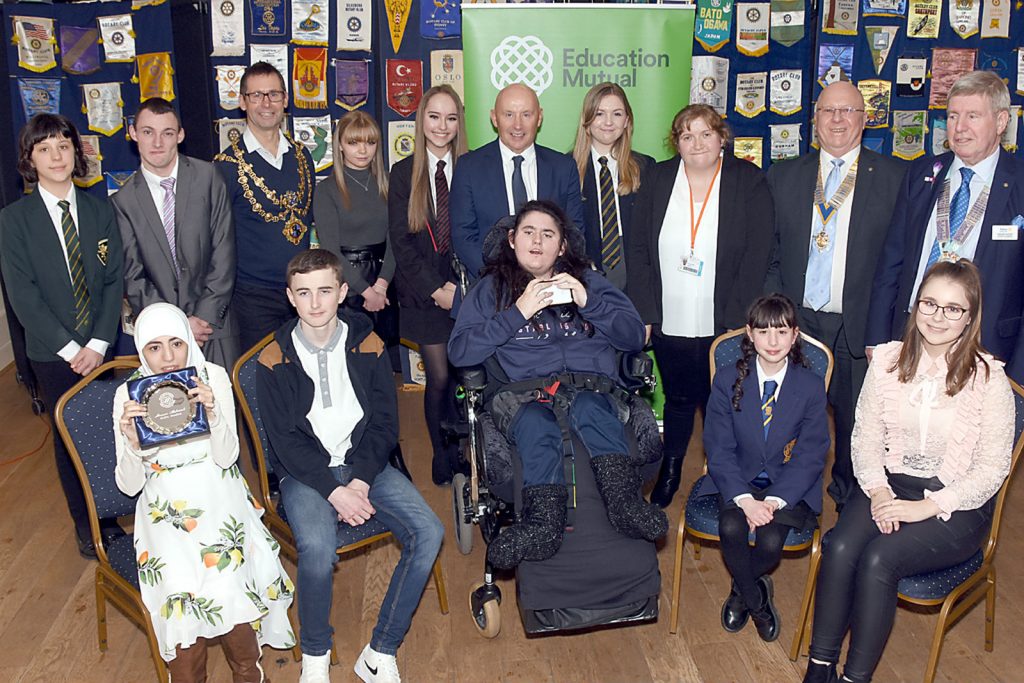 Inspirational children and young people who have overcome adversity were honoured at Mansfield Rotary Club's annual Courage Awards.
Now in its 29th year, the event was hosted at Portland College, Mansfield, in front of the young people's families and teachers.
Article courtesy of the
News Journal
– the original GOOD news local paper
Twelve young people — Paris Clarke-Hippsley, from The Samworth Academy, Mansfield; Ellie-Paige Willoughby, from Joseph Whitaker School, Rainworth; Charlette Smith, from Brunts Academy, Mansfield; Katie Bloomfield and Georgie Ancliffe, from West Nottinghamshire College; Thomas Glazebrook, from A Place To Call Our Own; Marwa Alshaieb, from Reach, Mansfield; Lois Harnett, from Portland College; Sophie Owen, from Meden School, Warsop; Abbie Steel, from Queen Elizabeth's Academy, Mansfield; Kieran Vardy, from R.E.A.L. Education; together with a student from Fountaindale School, Mansfield, who was unable to attend — received a plaque from the Rotary club and a civic citation from the Mayor of Mansfield, Andy Abrahams.
The recipients of the awards had been nominated by their school or college for "exemplifying moral and spiritual courage in the face of personal adversity and difficulty."
Presenting the awards, Mansfield Rotary Club president, John Bilzon, said: "Courage is often described as the ability to conquer fear or despair.
"But courage is not only showing bravery in the face of danger, more often courage is the day-to-day determination and hard work of dealing with, adjusting to, and, hopefully, overcoming the obstacles and harsh realities that life may present.
"It is a quality of mind enabling one to face that hardship with resolution.
"A resolution with power and spirit — the power to make choices and set goals and to act upon them firmly without renouncing those objectives; the spirit to let that courage succeed by the behaviour and attitude shown to the world about them."
Education Mutual was the event's main sponsor. Tables were sponsored by: Tyler Bros (Sutton-in-Ashfield) Ltd, HW Martin Waste Ltd, Atmospheric Interiors, Asmech Systems Ltd, Portland College, Hall-Fast Industrial Supplies, Mansfield Building Society, Fidler & Pepper, Overton Electrical, Hopkins Solicitors, Lighting Project Solutions and Mansfield Garage Doors.
The Rose Bower, Outram Street, Sutton, provided floral gifts to the parents and carers of each nominee.
Among the other guests were the governor of Rotary District 1220, Rotarian David Hood, the president of Mansfield Inner Wheel Club, Anne Lyons, and Julie Rathbone, who has represented All Saints' Catholic Academy, Mansfield, at all but one of the Courage Awards events.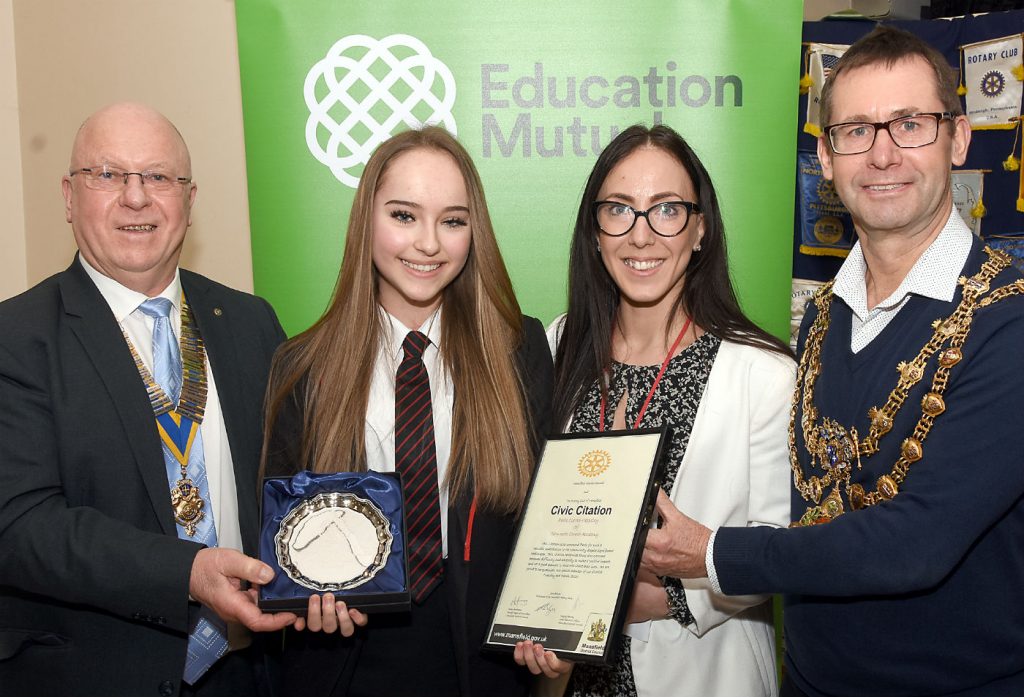 Paris Clarke-Hippsley
(The Samworth Academy, Mansfield)
Paris Clarke-Hippsley, aged 15, has been nominated by The Samworth Church Academy for showing immense bravery and enthusiasm, despite struggling with a condition affecting her spine.
In late 2017, Paris was diagnosed with scoliosis during one of her dance rehearsals after the teacher noticed a difference in the height of her shoulder blades. Paris visited the doctors and was informed that she did have a curvature of the spine and was referred for further tests. This came as a huge shock to Paris and her family as she had been a keen dancer since the age of 4. She competed both locally and nationally, and for her school, collecting many awards along the way.
As the condition deteriorated over time, she found it extremely difficult to cope with the pain and needed codeine and morphine daily to manage. In October 2019, Paris had seven-hour spinal surgery to correct her spine and this involved using titanium rods, 17 screws and a hook to keep her spine aligned and stop it from twisting/bending any further. Mr David Broomhead, deputy headteacher, said: "Throughout, Paris remained upbeat and positive."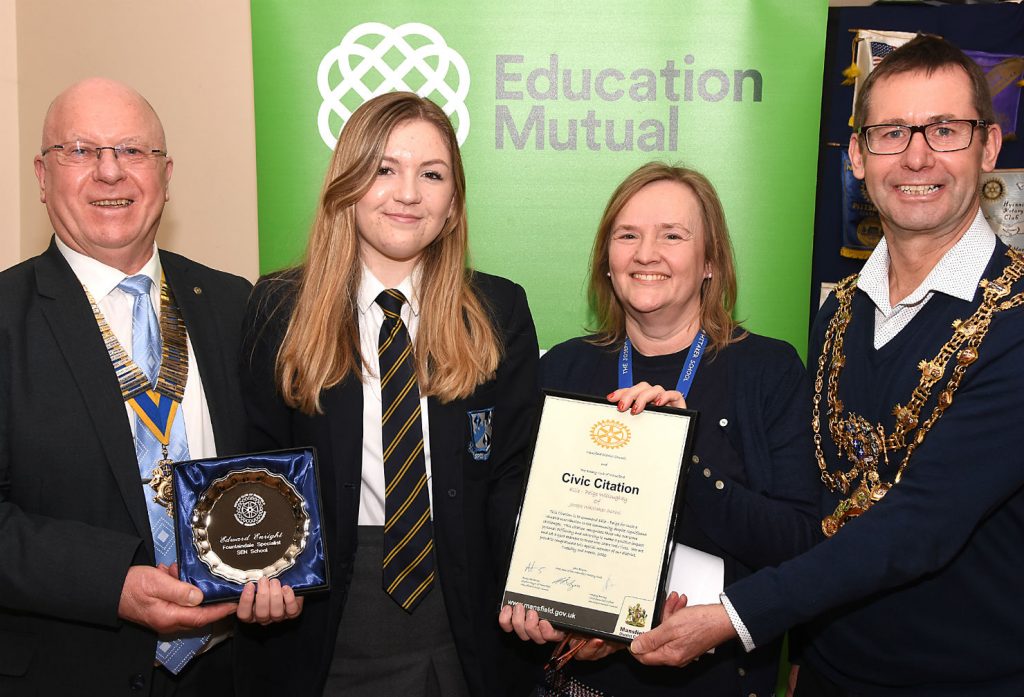 Ellie-Paige Willoughby
(Joseph Whitaker School, Rainworth)
Ellie-Paige Willoughby, aged 15, attends Joseph Whitaker School and has been nominated for the courage she has shown overcoming the difficulties of her health issues.
Mrs Dawn Mallon, SEN Manager and key worker, said: "Ellie had surgery for cochlear implants, fitted during the summer holidays, before she came to us (JWS), and in Year 7 she was unable to hear anything except clicks and whirs, was unable to understand sounds at all and was transitioning to a new, much bigger school with people she didn't know.
"Since that time, when much of her learning took place in the Student Support Centre she has flown. "She had emergency funding for a year to allow us to support her learning through the difficult early months, but Ellie was soon out in all lessons and achieving highly in all subjects (not to mention one of them being Modern Foreign Languages – a lesson that in Year 7 terrified her)."
Dawn added: "She is now in Year 10 and has coped with many issues of her own, always dealing with them quietly and sensibly, and has proved to be very supportive of other students with a hearing impairment."
At school, Ellie enjoys English because she likes to read other people's work.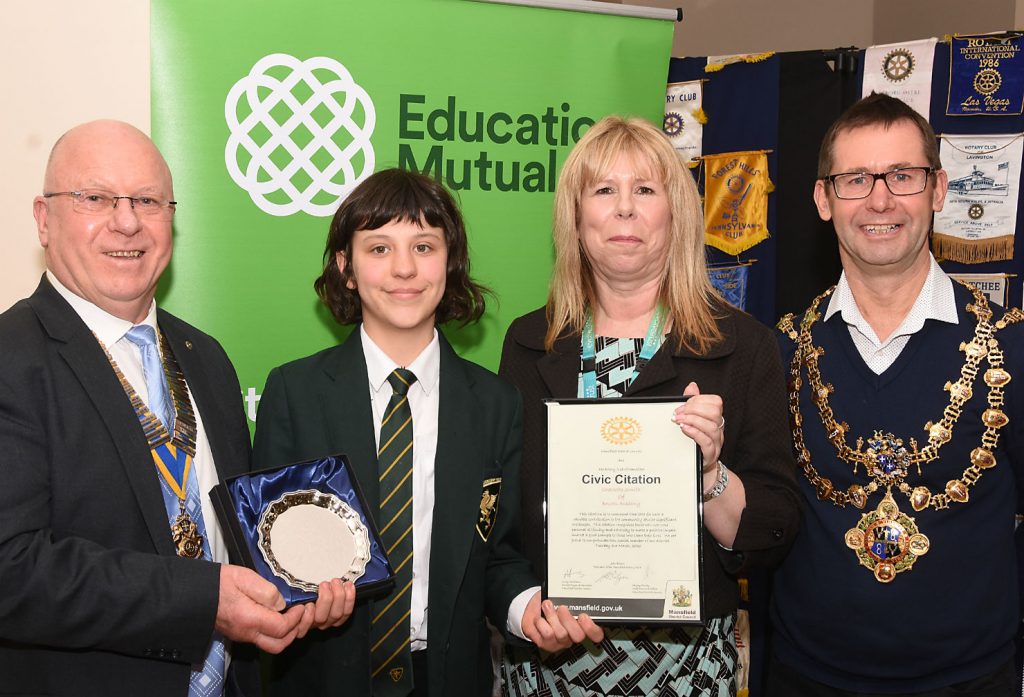 Charlette Smith
(Brunts Academy, Mansfield)
Charlette Smith, aged 13, has been nominated for her determination to overcome difficult circumstances after experiencing great trauma. The youngster, from Nottingham, attends Brunts Academy and has a passion for horse riding, swimming and biking.
"Despite being dysregulated and scared she always comes to school and tries her best," according to her school.
In the future, she would like to work with animals.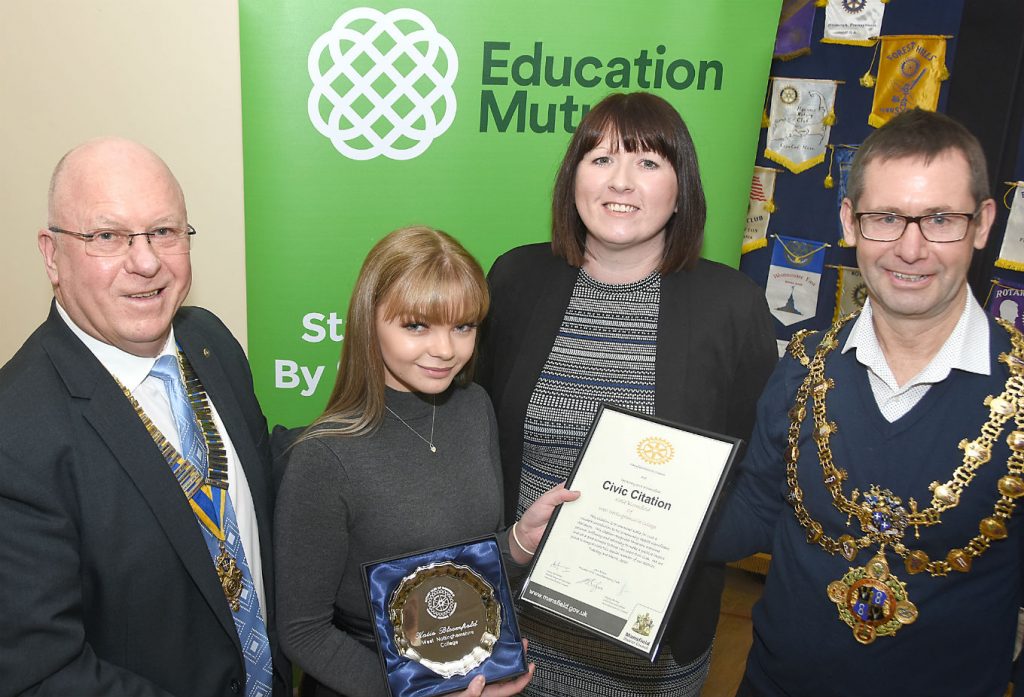 Katie Bloomfield
(West Nottinghamshire College)
Katie Bloomfield has been nominated for hard work and commitment to learning, despite missing crucial school-time.
Katie was an extremely conscientious student last year, studying level 2 diploma in travel and tourism with 100 per cent attendance and being on track for a distinction grade, when she suddenly started to feel ill, with bad headaches.
She was admitted to hospital, where she was diagnosed with a blood clot on her brain, which left her poorly. It meant she missed three months of college at the crucial end-of-year point, from March to May. However, Katie was absolutely determined to finish the course and continuously asked for college work throughout her time in hospital and throughout her recovery.
With medical advice, teaching staff put together a return-to-college programme and asked the examining board to delay Katie's end date so that she could complete her studies over the summer. Katie managed to complete the course by the end of June, at the same time as her classmates. Moreover, Katie gained an overall distinction average and a distinction in every unit except one, where she was awarded a merit.
Claire Craig, the programme area leader for travel and tourism, said: "Katie never complains about her illness and just gets on with it, even though it has meant completely re-thinking her career path in the industry as she can no longer fly or work as cabin crew while receiving treatment.
"Her hard work and dedication ensured she was selected from hundreds of candidates to undertake a work placement at East Midlands Airport to learn more about ground roles in aviation."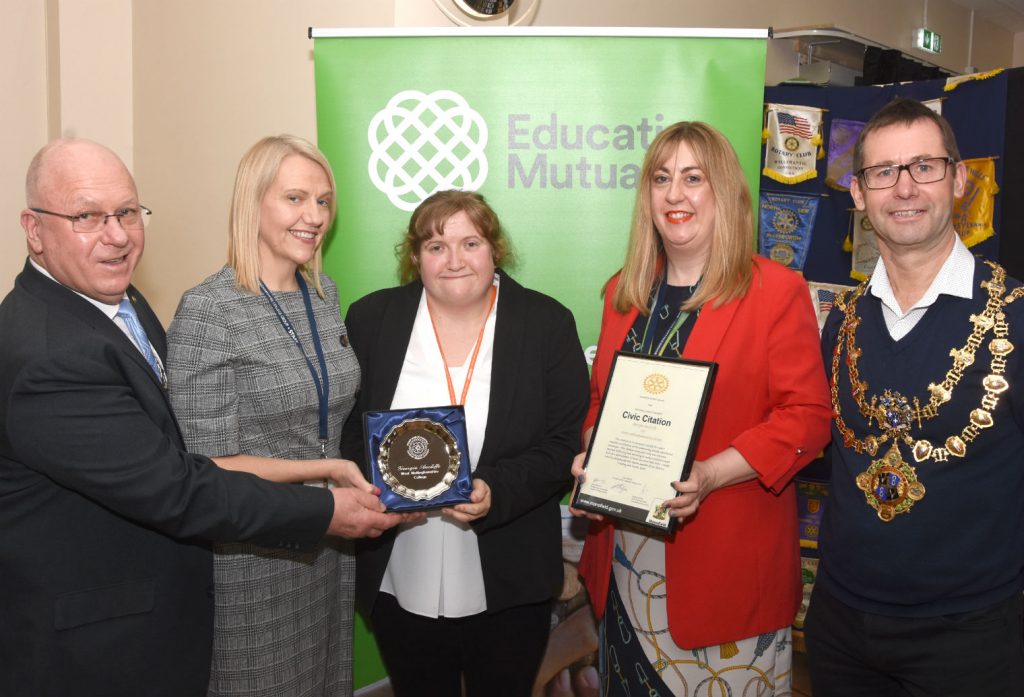 Georgie Ancliffe
(West Nottinghamhire College)
Georgie Ancliffe, from Hucknall, has been nominated for demonstrating courage in the face of adversity and for persevering, despite fighting many internal battles.
Georgie was a young teenager when she lost her mum very suddenly and, "as you can imagine for any teenage girl, this was very difficult for her to comprehend and come to terms with," said Vanora Heason, who nominated Georgie.
The 20-year-old, who attends West Nottinghamshire College, subsequently went to live with her grandma and grandad, but soon settled into a routine. Tragedy struck again when Georgie unexpectedly lost her grandfather and as her grandma's health deteriorated, Georgie and her younger brother faced a period of great uncertainty regarding their future. During this time Georgie had to grow up quickly, looking after not only herself but her brother and grandma too.
Despite all these setbacks and new responsibilities, Georgie's attendance at college remained excellent.
Vanora added: "There have been a lot of ups and downs and Georgie has faced and conquered some real-life battles that many of us will never have to contend with."
However, she has exemplified compassion to others, demonstrated courage in the face of adversity and has persevered, despite fighting many internal battles.
"Georgie has never let her hearing loss get in the way of what she wants to do or the person she wants to be. "Her journey so far is a real testament to her resilience and strength of character and she is a shining example to other young people with a hearing loss or indeed any difficulty or disability. We couldn't be more proud of the amazing young person she has become."
In the future, Georgia would like to work in a role that involves looking after children.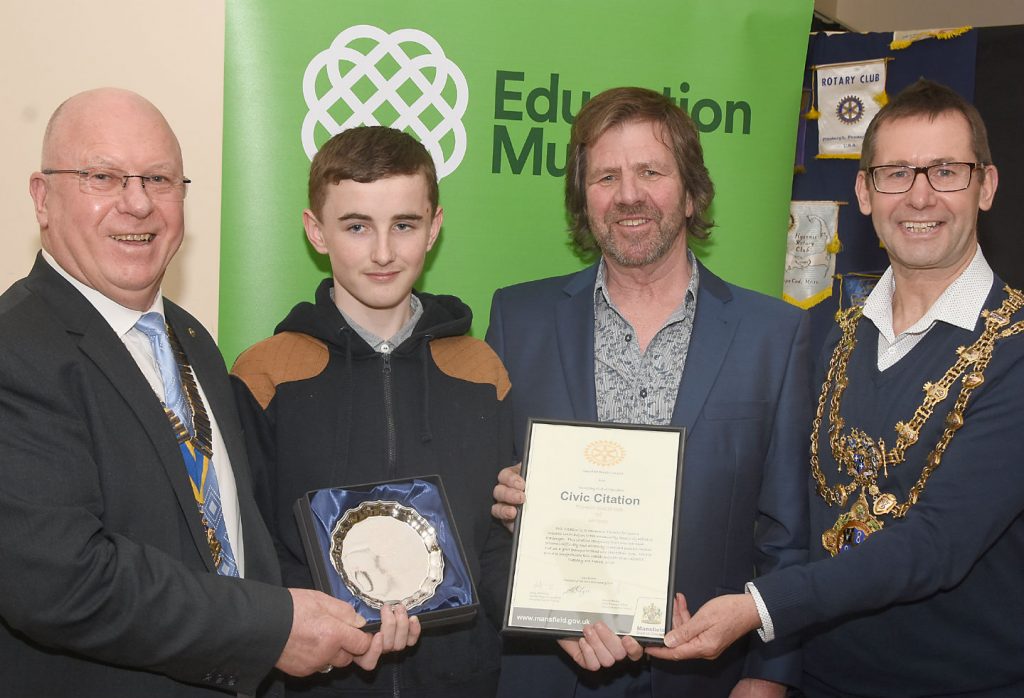 Thomas Glazebrook
(A Place To Call Our Own)
Thomas Glazebrook, of Sutton, has been nominated for being an inspiration to other students at his school.
Last year the 14-year-old had to cope with stress, trauma and change resulting from changing school, family bereavement and the distress of helping out at home whilst his mum went through treatment for cancer. During this time Tom attended school.
When Tom was told that following treatment his mum could lose her ability to speak, he took it upon himself to learn British Sign Language and began to share and check understanding of the language with everyone he came in contact with.
Tom has developed skills that will be useful in his future life as a self-employed builder and roofing contractor. His skills are not restricted to practical activities, he has developed the skill of using Microsoft Word, Excel and PowerPoint.
Martin Cope, headteacher of APTCOO Independent School, said: "Tom is an inspiration."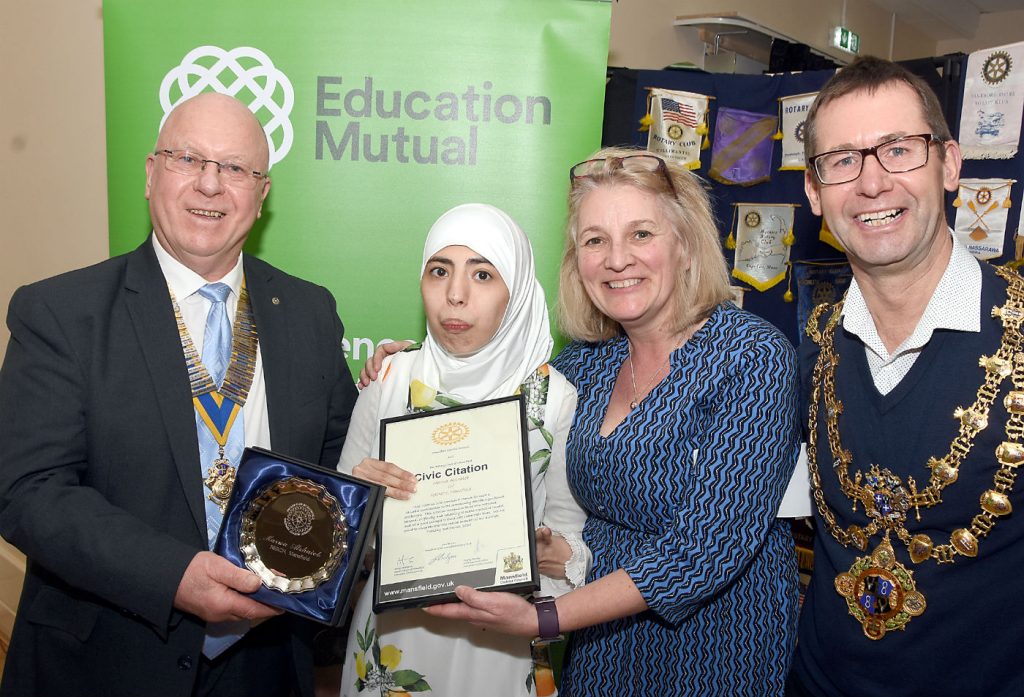 Marwa Alshaieb
(Reach, Mansfield)
Marwa Alshaieb joined Reach Mansfield in May 2018 after coming from Syria in approximately 2016 with her mother, Hafsah, and her sister, leaving friends and family behind.
She has cerebral palsy and also finds it difficult to communicate using words. However, she has not let her disability hold her back and has also made lots of friends at Reach.
Staff at Reach say that they "hardly ever see Marwa without a smile." The 28-year-old enjoys dancing in the performing arts session, cooking and making some terrific crafts.
In the future, she hopes that she will continue to attend Reach.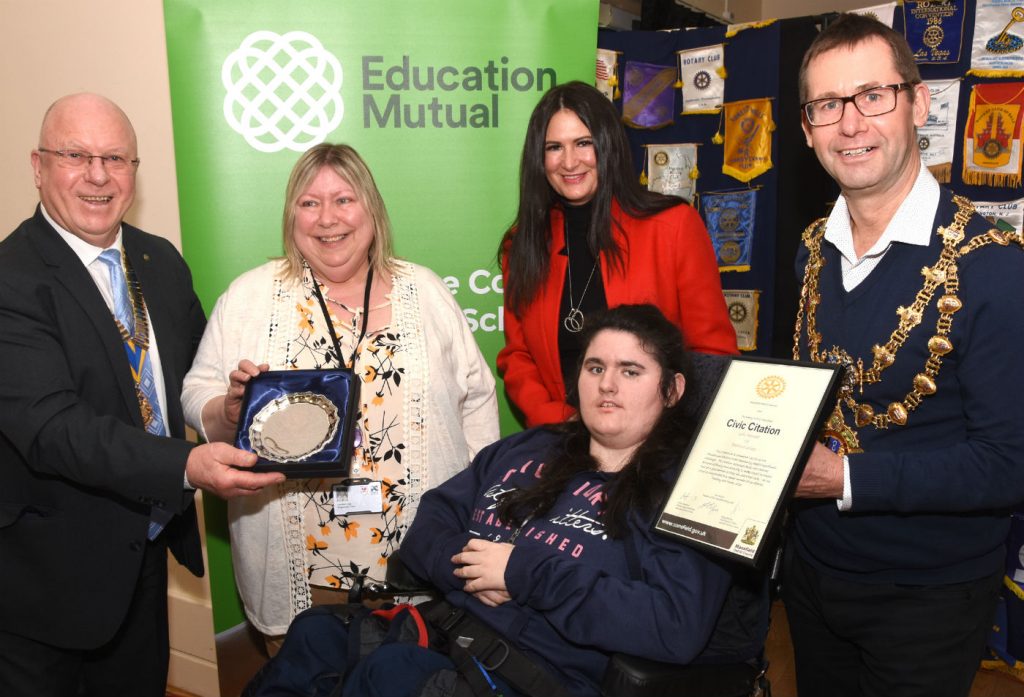 Lois Harnett
(Portland College)
Lois Harnett, 21, attends Portland College and has been nominated for the way that she has coped with illness.
Lois, of Nottingham, had a turbulent start to the academic year when she spent the whole of the summer holidays in hospital with an infection in a very deep open wound on her back – and she was quite ill.
Since her return in September she has made every effort to attend college and always takes part in in-session activities.
Lorraine Little, Lois' progression tutor, said: "Lois never complains and at times it is very apparent she is in a lot of pain and discomfort, but she refuses to go home.
"She likes to be my Deputy TA, and will tell me to get on with things. She will also tell others to listen to her as she's in charge!
"She loves to watch what is going on around her (she is definitely a people watcher) but talking is a big hobby of hers."
In the future, Lois hopes to become as independent as possible.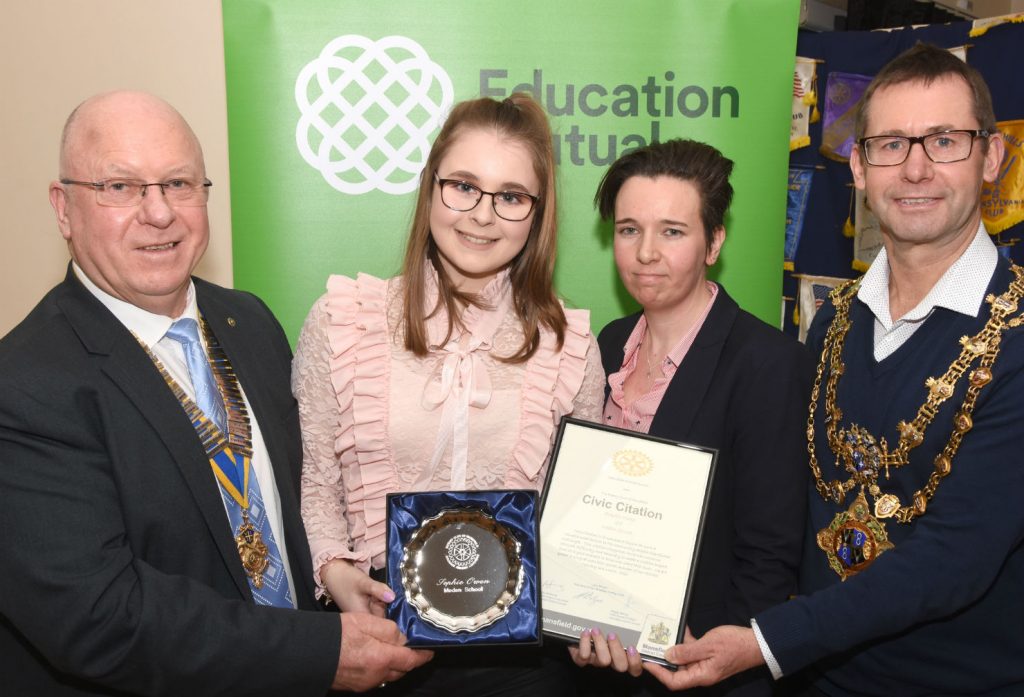 Sophie Owen
(Meden School, Warsop)
Sophie Owen, 18, tragically lost her dad last year, very suddenly and unexpectedly, and since this trauma she has suffered from PTSD.
Despite facing ongoing challenges, the horse riding fan, from Church Warsop, has had a positive attitude toward learning and she remains focused on her studies.
Kate Kinney, a teacher at Meden School, said: "Sophie is the kindest student who we have ever had the pleasure of teaching at Meden School. She is very hard working and determined to succeed.
"She has been very resilient and still gives 100 per cent to her A-Level studies. We know that she will go on to do great things."
Sophie's long-term ambition involves becoming a business or HR manager after studying at university. She is hoping to go to Leicester or York University after completing her A-Levels.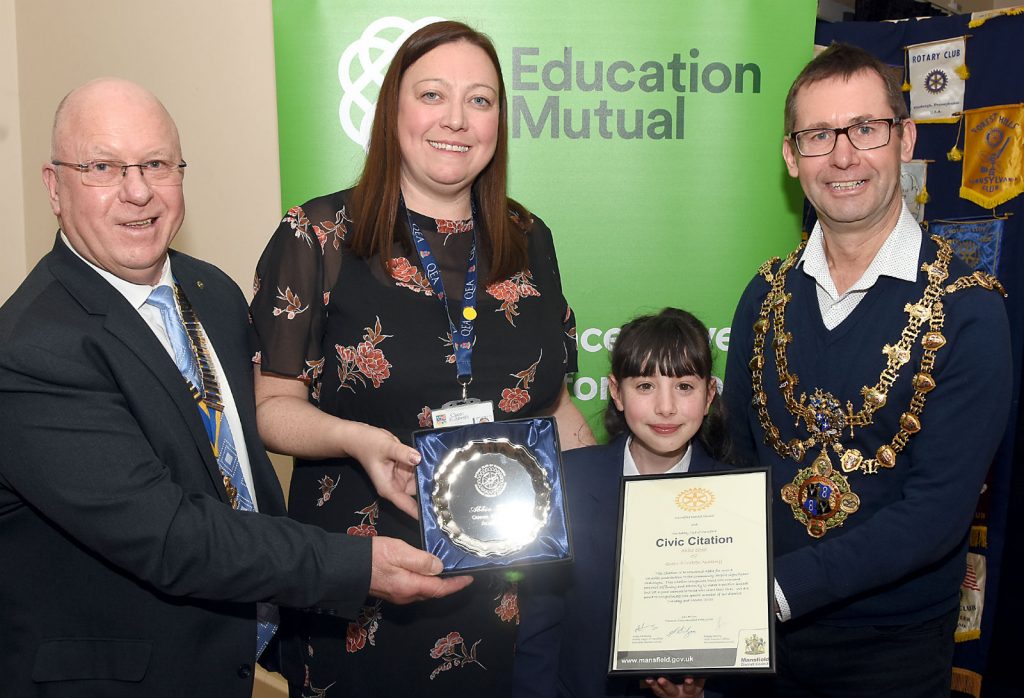 Abbie Steel
(Queen Elizabeth's Academy, Mansfield)
Abbie Steel, from Mansfield, attends Queen Elizabeth's Academy and has received her nomination for taking on every aspect of school life with the utmost enthusiasm, despite having an illness that has impacted her both physically and mentally.
As a baby, Abbie was diagnosed with cancer and underwent chemotherapy for three years and five months. She was left her with holes in her skull and her parents were told that she had a 20% chance of surviving.
She was left deaf in her left ear and wore a hearing aid until an operation repaired her hearing.
Abbie, 11, has gaps in her learning due to her illness and struggles with both long-term and short-term memory.
Ceri Graham, head of house at the academy, said: "Abbie is a shining example of someone who has not let illness stop her from getting the most out of life."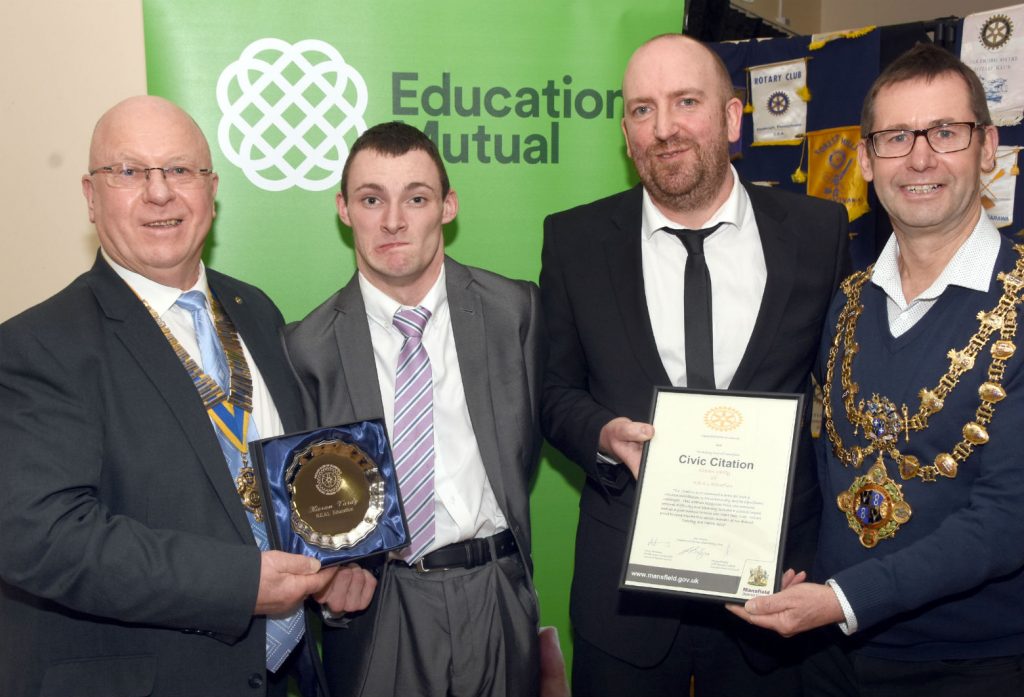 Kieran Vardy
(R.E.A.L. Education)
Kieran, of Kirkby, has been nominated for overcoming every barrier that has been put in his way.
He was born with Cerebral Palsy, which affects his speech and mobility, but hasn't let this define him.
Kieran joined R.E.A.L. Education as a learner in mechanics in 2016 and progressed through his L1 Diploma. Whilst on his mechanics course he impressed with his determination to succeed and how inspirational he was to other learners.
Once he had completed his qualification, Kieran secured a job in the mechanics department.
Antonia Germany, Kieran's line manager and former tutor, said: "He had a tough year last year, losing his mum, but he hasn't let this affect his performance at work.
"Even better he is a true encouragement to our learners, pushing them to believe that if you put your mind to it, anything is possible."