A world-leading charity initiative to supply foodbanks across the region is asking for more help from the public to make sure no-one goes hungry as the post-Covid recession bites.
Rotary4foodbanks has set up a Just Giving page and is asking people to dig deep to help. Its £100,000 programme is already providing much needed food supplies to foodbanks across the East Midlands and South Yorkshire but say the organisers, there is so much more to be done.
In what is believed to be the first scheme of its kind, Rotary Clubs across the region have teamed up and pooled their fund-raising resources to buy goods wholesale for supply to local foodbanks. "By working at scale and buying at wholesale prices we can get as much as 50% more value for each pound donated," says the programme organiser Rotarian John Cavey. "We focus on bulk buying the things we know are in big demand – tea, coffee, cereals, tinned fruit – and sharing them out across the many superb foodbanks in the region."
Since introducing the scheme, just eight weeks ago, Rotary4foodbanks has already delivered over £60,000 worth of food to around 50 foodbanks from Nottingham and Lincoln to Derby, Burton and Sheffield. "The whole scheme is run by volunteers and we have had tremendous support from businesses who have stepped in to help with logistics and delivery. But we are still just scratching the surface. Every penny we receive buys food at the best possible price – all our costs are met by volunteers and supporters.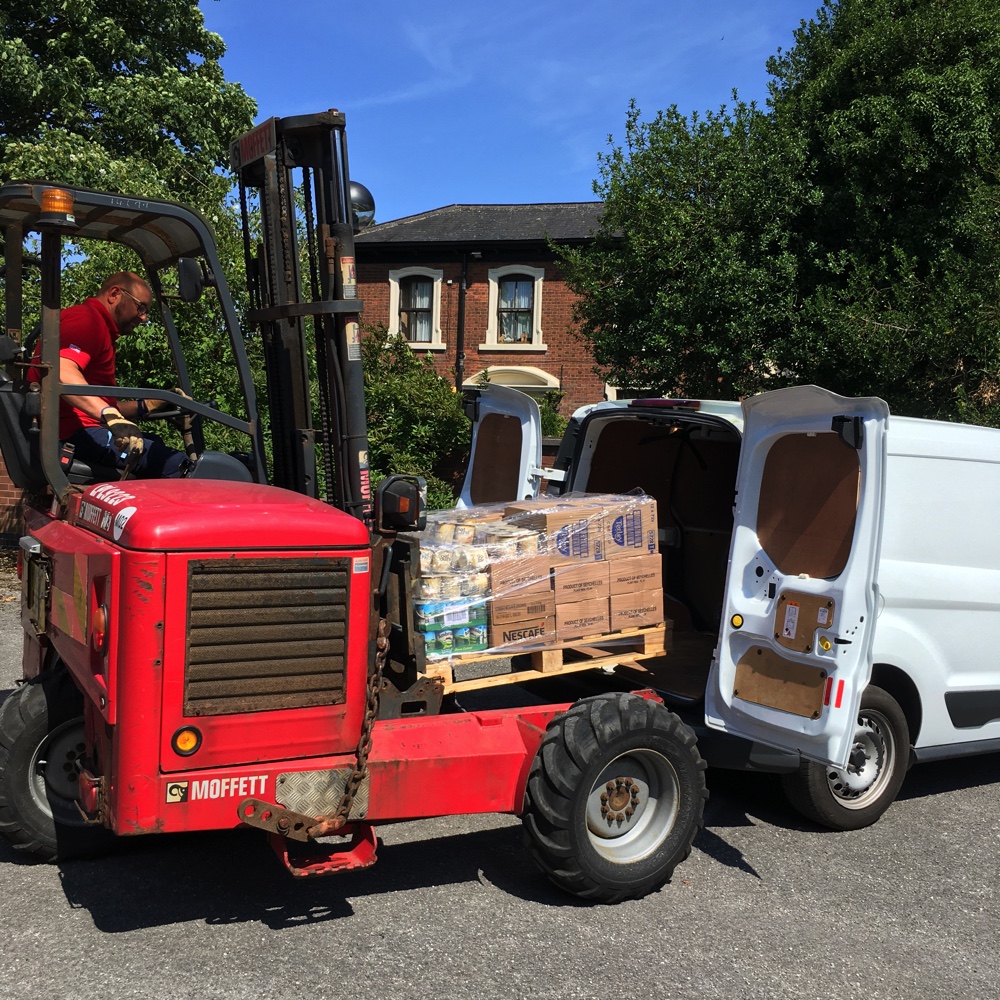 "Rotarians are committed to charitable work in the community and will continue to raise funds for this vital project but we need more help from the public and from businesses across the region. That is why we have set up our Just Giving page now to make it easy to donate."
John and his team hope to top £150,000 during the summer and plan to team up with other clubs across the country to extend the Rotary4foodbanks beyond the East Midlands and South Yorkshire region later in the year.
"Foodbanks tell us they are already seeing a huge spike in demand and that they expect that increase to continue as more people lose their jobs and struggle to make ends meet."
His views are echoed by Paul Laffey who runs the YMCA foodbank in Burton on Trent which has had support from Rotary:
"When a pallet stacked high with porridge, coffee, tea, tinned tuna and other vital supplies arrived, we were overjoyed. Demand is up by 51% compared with the same period last year, and we expect that to increase still further as the economic impact of the pandemic unfolds. We rely on the generosity of individuals and organisations like Rotary to ensure that those in crisis in our community don't go hungry."
Anyone wishing to support the Rotary4foodbanks initiative can donate by visiting the Just Giving page