Volunteers from Evolve CIC in Broxtowe have turned from boxing to bagging as they extend their foodbank services in the fight to ensure that no-one in the district goes hungry this winter.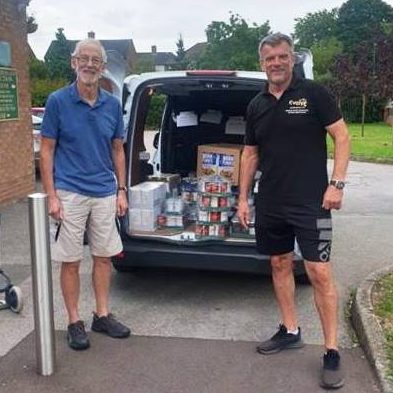 But, warns former police officer turned local hero Gary Bulmer, the demand for services looks set to increase as the winter looms.  With the backing of the new Rotary4foodbanks scheme, he calls for the public to be vigilant as the effects of the Covid pandemic continue to bite.
Gary and Evolve's co-founder Karen Swan are now managing a team of volunteer helpers to bag and deliver food parcels from stock donated by organisations like Rotary4foodbanks, FareShare and local supermarkets.  They have provided 75 tons of food since lockdown was introduced. Currently they hand out around five tons of food every week and support over 700 vulnerable people in the community.
Bringing people together
Gary retired as a community police officer in 2017 after 30 years in the force. It was in that role that he saw the link between crime and deprivation and wanted to do something to help the community he loved. "I could see services were stretched and that what was needed was a way of bringing people together and giving them hope, friendship and purpose," he says.
Through his policing work, he had met Nottingham City Homes' inspirational housing manager Karen Swan who had also worked the Broxtowe patch for 13 years. Karen shared Gary's vision for an integrated people-centred approach to solving the challenges faced by parts of the community. They teamed up, and the impact has been remarkable. Gary explains:
"It started with a local lad who was being bullied. He was a victim of crime and he lacked confidence. I took him along to a boxing club and watched his confidence and self-esteem grow. I could see how boxing provided a great way of engaging young people and giving them self-discipline and purpose."
Gary gained his own boxing qualification and started a programme of youth sessions at Strelley Community Club on Helston Drive. "Right from the start the local Rotary Club in neighbouring Wollaton was in there supporting us. They raised funds for us to buy gloves and equipment. As a result we provided kids with an alternative to hanging around the streets for a couple of nights a week at least, and almost immediately you could see the reduction in anti-social behaviour."
Now the club's oldest boxer is 98 and the project has extended beyond the boxing ring to provide craft sessions for the elderly, women's groups meetings and Zumba classes for all.
With regular youth and community session at the Strelley Community Centre, Evolve provides a safe place for people of all ages to meet and talk.
"Here people make friends, exchange ideas, solve problems together.  Those who perhaps didn't have a voice, now have a say in how the community shapes up and tackles some of the issues and opportunities it faces," says Gary. "Feeding people has also been part of that link with the community, so vital to win trust amongst people who sometimes may feel alienated."
Covid crisis brings new challenge – and new hope
As Covid took hold, the Evolve project faced new challenges. Meetings were suspended as lockdown was introduced.
"Immediately the crisis struck, those who had initially come to us for help stepped up and asked how us they could help others. Their response was so heart-warming. That spirit of giving is a credit to the community of Broxtowe.
"FareShare had been providing food for us for some time. When Rotary4foodbanks offered to make deliveries of pallets of staple foods – tea, coffee, tinned fruit, cereals – we were ideally placed to support the needy. Because we are rooted in the community we know where the need is, especially amongst those too anxious, proud or independent to come forward."
Rotary4foodbanks was set up earlier this year to meet what local Rotary clubs knew would be a growing demand for foodbank services.  Run completely by volunteers, it buys food at wholesale prices and distributes it by the pallet-load. So far it has supplied around £100,000 of staple foods to around 50 foodbank operations across the East Midlands and South Yorkshire.

Both Gary and Karen worry for the mental health and resilience of vulnerable people in the community. Alleviating that is going to be the next big challenge, they believe. But, says Gary, not having to worry about where your next meal is coming from goes a long way to easing those fears, and the work of Rotary4foodbanks and FareShare is having a massive positive impact.
Despite winning awards for their community work, Gary and Karen shun the limelight and are modest about their achievements. "The real heroes are the volunteers who came to us looking for support and now, in time of crisis, are out there supporting others. We are just proud to be a part of it."
To get involved with Evolve visit https://www.facebook.com/evolvenottinghamcic/
To donate to Rotary4foodbanks visit https://www.justgiving.com/campaign/rotary4foodbanks
For more information about FareShare visit https://fareshare.org.uk/

You can support Rotary4Foodbanks through our JustGiving page