Music In The Gardens, started as a small idea organised by the Rotary Club of Sheffield which was to put on a small, live music concert in the Botanical Gardens to raise funds for local charities. Originally, Jazz in the Gardens was a one day, low key event. Since then, driven by customer demand (and certain economies of scale), Music in the Gardens has grown into an event recognised not only within Sheffield but now nationally as a special series of music concerts in the entertainments calendar.
So what is special about Music in the Gardens? It is four evenings of music featuring world recognised top artists at realistic prices. It is an evening picnic in beautiful surroundings. Bring a chair or blanket and sit in the lazy evening sunshine and soak up fabulous music whilst enjoying a picnic, a plate of something hot from our high quality food stalls, a good honest pint of real ale from Bradfield Brewery or a glass of something fruity in the company of people with whom you can unwind. It is a music festival for those people who do not fancy the idea of attending a music festival!
Music in the Gardens is now in it's 12th year and is organised by the combined efforts of Rotary Clubs from South Yorkshire and North East Derbyshire. The event is designed to be a major event on the social calendar and be a major community event and fundraiser for various local Charities.
Each charity is also responsible for organising a bucket collection during the interval, to help boost its income. So please, bring lots of loose change – the folding type would be good! Each evening, in addition to having a great time, you will be making a major difference. Because of the help we receive in hosting the event, The Botanical Gardens Trust also gets a donation which goes towards the Gardens development.
To date, Music in the Gardens has raised more than £220,000 for local, national and international charities and projects.
The lineup for 2016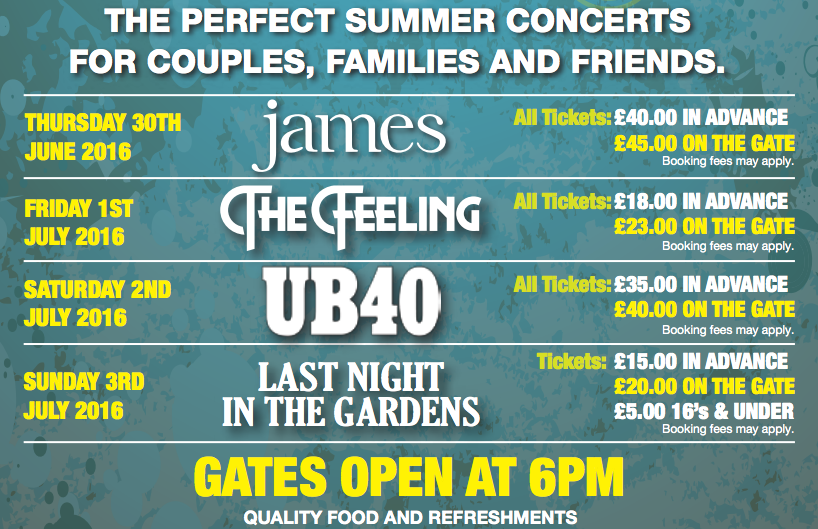 Please visit the Music in the gardens website for further information  musicinthegardens.co.uk