Doctor Jill Bethell MBE takes over as District 1220 Governor in July. The retired doctor will lead the team ensuring Rotary has fresh vigour to be 'alert' to the needs of communities throughout the East Midland and South Yorkshire.
During and beyond the covid-19 pandemic, 67 local Rotary groups have continued to support by uniting and take action in our communities and beyond. A regional foodbank supply scheme is now in operation and a number of grants have been made to schools, individuals and organisations making PPE for hospitals and care centres. Rotary International have given $20million to support foodbanks worldwide.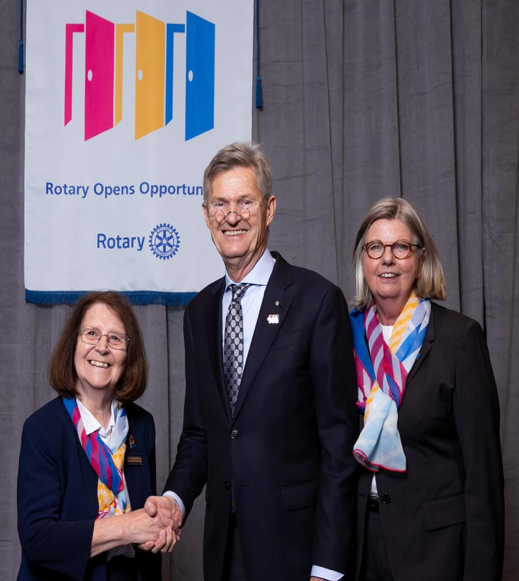 Retired Dronfield GP Jill said, "Many lessons have and are being learned during this pandemic. As COVID-19 changes the way we live so it changes how Rotary operates and what we do. Let's all turn our challenges into stepping stones to success in different ways than we've previously enjoyed."
Jill, a Londoner by birth, trained in Sheffield and has spent many years in Dronfield and is privileged to be very much part of the Community. Jill, with others, started the Welcome Club on Tuesdays in memory of her father who had multiple sclerosis; the Cardio Club for those with heart problems – often Jills' Friday evening surgeries were busy with men from 50-70 years, who had had heart attacks, needing to "touchbase" and check out their concerns. Dronfield's keen, vibrant St John Ambulance Unit invited Jill to be President; Dronfield Guides to be their Ambassador and a Church Warden for 5 years. Jill and husband Tony were both very honoured to receive MBEs at the same time in 2011, for Services to the Community of Dronfield.
Jill will lead Rotary as it develops through Covid-19 with greater use of technology such as video conference meetings and Rotary E clubs where members do much work online.
Jill said, "Rotary needs to keep alert to present very difficult and different circumstances. We need to modernise and move on in the 21st century with younger members enabling Rotary to help address community needs both during and after this pandemic."