Report by Val Leivers regarding DG Martyn's project to empower girls in India
I have recently returned from my first visit to the school in Secunderabad since COVID and was able to meet the students and staff in their well-equipped vocational room. All the girls were busy and obviously really enjoying learning their new skills in tailoring.
I was impressed with the two teachers, who are also professional tailors when not instructing in school.
We currently have 42 girls on the course, 25 in year 9 and 17 in year 8 and it is hoped to increase the numbers before the end of the year.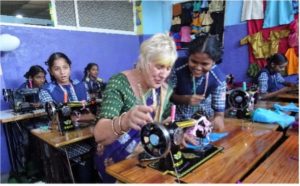 The girls thought it was funny that I had difficulty using a treadle machine as I usually use an electric machine or hand sew. The green sari blouse I am wearing here was made for me by the girls.
The students receive a good academic education alongside their vocational instruction which provides them with valuable employment skills for the future. The students are learning all the basic tailoring skills needed and are already making clothes for themselves and family.
They can now make items for sale, such as cushions and bags to raise funds for the school.
When the first group complete their academic education next year, some may decide to start their own business. Who knows, some may be ready to teach alongside the teachers in the school?
I was delighted when, just before I left India, the girls presented me with a dress, shown below, which they had designed and tailored for me. Someone must have told them that my favorite colour is blue!
Funds are still needed to sponsor girls who are waiting to be included on the course and take this excellent project into the future. Your support really has empowered these girls and given them a future, both academically and vocationally.
If your club would like a face-to-face presentation about this and other projects we have completed in India, I will be delighted to receive an invitation from you!
On behalf of Dr Prasad, the staff, the girls, and DG Martyn, I thank you for your support, it is really appreciated by so many.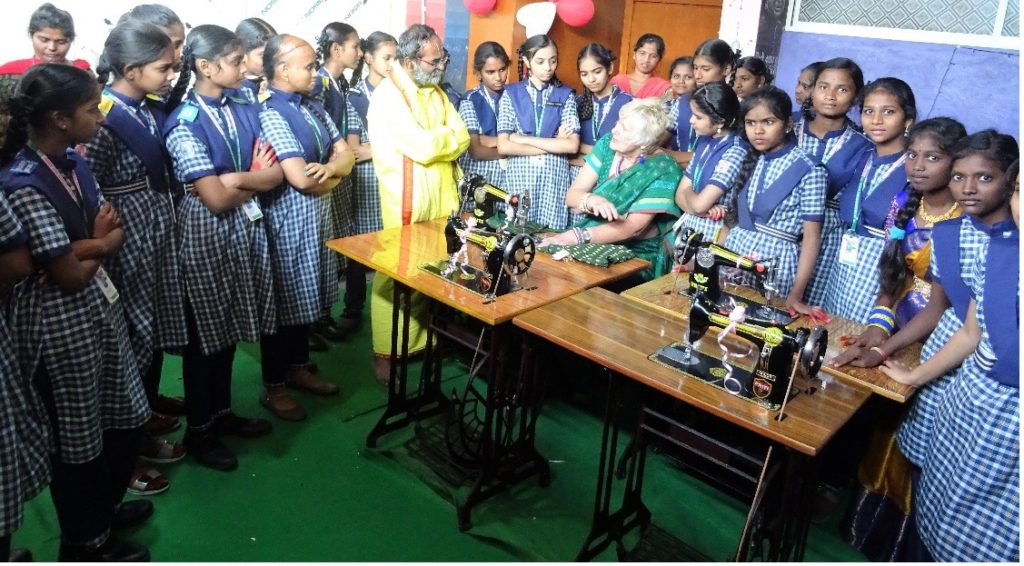 Val Leivers, Rotary Club of Sherwood Sunrisers.