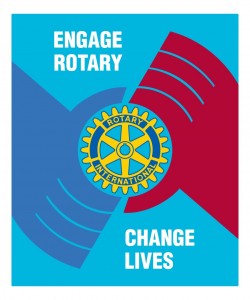 RI President-elect Ron Burton will ask Rotarians to Engage Rotary, Change Lives in 2013-14.
He unveiled his theme during the opening plenary session of the 2013 International Assembly in San Diego, California, USA, the annual training event for incoming district governors.
"If we really want to take Rotary service forward, then we must make sure that every single Rotarian has the same feeling about Rotary that each one of us here has today," Burton said. "We need to make sure that every Rotarian has a meaningful role to play, that they're all making a contribution, and that their contribution is valued."
Burton said the July launch of The Rotary Foundation's new grant model, Future Vision, makes it an exciting time to be a Rotarian. He said the new grant model, which has been used by about 100 pilot districts since 2010, represents a new era for the Foundation, and will help Rotarians get excited about Rotary's ability to change lives.
"It takes everything that is wonderful about Rotary and raises it to a new level — by encouraging bigger, more sustainable projects while providing increased flexibility for local projects, both of which address the needs of the community being served," he said.
Burton asked the incoming district governors to take the lead in helping their clubs through the transition, with the assistance of their district Rotary Foundation chairs, who also attended the assembly this year. The training sessions are focusing heavily on equipping these leaders to go back to their districts as experts on the new grant model.
Before the assembly, Burton asked each of the incoming governors to make a donation in their name to The Rotary Foundation in order to demonstrate leadership by example. At the assembly, he announced that all 537 governors-elect had complied; along with donations from all RI Board members and Foundation Trustees, the contributions totaled US$675,412.
"Now, I have to believe that some of this is money that The Rotary Foundation probably would not have received had I not asked. And I think that this is an important lesson" he said. "If you want somebody else to do something, you can just sit around and wait for them to get the idea, or you can ask."
Burton applied that lesson also to membership development, which he insisted is the responsibility of every Rotarian. He told the audience that although he had been an active member of the Key Club, a youth program of Kiwanis International, he went on to join Rotary simply because the Rotary Club of Norman, Oklahoma, invited him to.
"You have to ask," he said.
But Burton emphasized that the job doesn't end when a new member joins: "It's not done until that new member is engaged in Rotary, inspired by Rotary, and uses the power of Rotary service to change lives."