ROTARY: MAKING A DIFFERENCE – President Ian H.S. Risley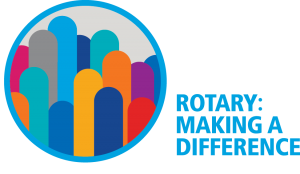 Some years ago, a new acquaintance asked me what should have been a simple question: "What is Rotary?" I opened my mouth to reply and then stopped short with the realization that I simply did not know where to begin. The problem wasn't that I didn't know what Rotary was. The problem was that Rotary was — and is — too large and complex to easily de ne. We are a member-based organization, a club-based organization, and a service-based organization; we are local, regional, and international; we are community members, businesspeople and professionals, working and retired, active in nearly every country in the world. Every one of our 1.2 million members has a unique set of goals, experiences, and priorities; every one of us has a unique understanding of Rotary.
To me, Rotary is defined not by who we are, but by what we do — by the potential that Rotary gives us, and the ways we realize that potential in meaningful and lasting service. Rotary has been around for a long time: 112 years. In some ways, we've changed tremendously, as we've grown, matured, and adapted to the changing needs of our members and communities. In our fundamentals, however, we remain the same: an organization of people with the desire — and through Rotary, the ability — to make a difference in our communities, and the world.
We answer the question "What is Rotary?" with our actions, by making a difference through our service.
As an organization, we recognize how important it is that the world understand what Rotary is, and what we do. At the same time, we know that it is more important than ever to allow our clubs to define Rotary service for themselves. As Rotarians, we have more exibility than ever to decide how we want our clubs to meet, work, and grow. We're focused more than ever on making sure that Rotary reflects the people it serves, with more women and a more diverse membership. And we're working hard to ensure that Rotary remains the world's pre-eminent volunteer service organization, by emphasizing long-term planning, sustainable service, and continuity in leadership on every level.
In 2017-18, we will answer the question "What is Rotary?" with the theme Rotary: Making a Difference. However each of us chooses to serve, we do it because we know our service makes a difference in the lives of others. Whether we are building a new playground or a new school, improving medical care or sanitation, training con ict mediators or midwives, we know that the work we do will change people's lives — in ways large and small — for the better. Whatever motivation each of us had for joining Rotary, it is the satisfaction we find in Rotary that causes us to remain, the satisfaction of knowing that week by week, year by year, we are part of Rotary: Making a Difference.
Ian H.S. Riseley
President 2017-18
Rotary Club of Sandringham
Victoria, Australia
Ian H.S. Riseley is a chartered accountant and principal of Ian Riseley and Co., a firm he established in 1976. Prior to starting his own firm, he worked in the audit and management consulting divisions of large accounting firms and corporations. His firm specializes in income tax and management advice for individuals and small businesses. He has a master's degree in taxation law and graduate diplomas in accounting and income tax.
Riseley has been a member of the boards of both a private and a public school, a member of the Community Advisory Group for the City of Sandringham, and involved in Sea Scouts and sporting groups, as well as honorary auditor or adviser for a number of charitable organizations.
Riseley's honors include the AusAID Peacebuilder Award from the Australian government in recognition of his work in East Timor, the Medal of the Order of Australia for services to the Australian community, the Distinguished Service Award and the Regional Service Award for a Polio-Free World from The Rotary Foundation.
A Rotarian since 1978, Riseley has served as treasurer, director, Foundation trustee, and member and chair of numerous RI and Foundation committees.
He and his wife, Juliet, a past district governor, are Major Donors and Bequest Society members of The Rotary Foundation. They live on seven hectares at Moorooduc, where they practice their personal philosophy of sustainable and organic living. They have two children and four grandchildren.