Salvation Army sings Rotary Club's praises as Ripley food bank reports surge in first-time users
Ripley Salvation Army is currently providing vital food supplies to vulnerable people every month and is expecting a surge in demand in the run up to Christmas.  Due to Covid-19 Ripley Salvation Army Food Bank, which serves all of Amber Valley, has seen a 100% increase in demand compared to before the pandemic.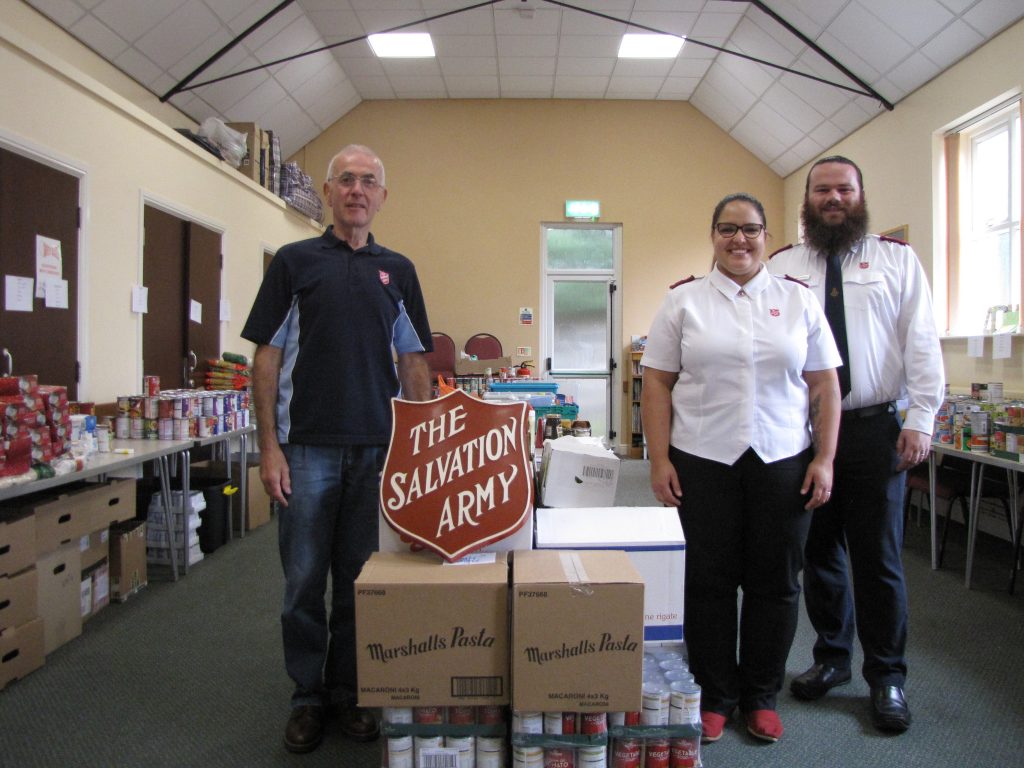 The latest delivery of over 80 cases of food by Rotary4foodbanks has helped Ian Brown and the foodbank team at its headquarters in Heath Road cope with the growing demand, with many people accessing foodbank services for the first time.
"It is only with the support of schemes like Rotary4foodbanks and help from local supermarkets that we can hope to meet the growing need as Autumn approaches and more individuals and families find themselves short of money for food," says Ian who manages the Salvation Army's admin and finances in the town. "Our commitment to never turning anyone away will be stretched to the limit this year," he warns.
Rotary Club members from Amber Valley and across Derbyshire were on hand recently to deliver over 80 boxes of staple foods – coffee, tea, tinned fruit, cereals and more – to keep up stock levels. They are working as part of a region-wide scheme – Rotary4foodbanks – which raises funds to buy food in bulk. This is then distributed free to around 50 foodbanks in the East Midlands and South Yorkshire.
Before the pandemic struck, Amber Valley Rotarians had already helped to build and fit out a new food store which has proved invaluable as the Salvation Army team strives to build stocks in anticipation of the increased demand as Christmas approaches.
Covid-19 has increased the challenge for the Salvation Army in Ripley and elsewhere. "Many of our supporters are older – most members are over 70 and have been shielding. So maintaining a food supply service has been especially difficult since March," Ian explains.
"Many of the people we support face real personal challenges – homelessness, drug and alcohol addiction. Others are ordinary families experiencing hardship as a result of the economic downturn. Many are seeking support from foodbanks for the first time. They all deserve our help."
Local Rotarian John Stamp who works with the Rotary4foodbanks team says the story from Ripley is echoed across the East Midlands. "There is real concern about the winter ahead and the demands that foodbanks like the Salvation Army Ripley service will face.
"At Rotary4foodbanks we have linked up with supermarket giant Morrisons and are committed to providing a regular supply of key food items to meet the need. We all give our time free, as willing volunteers, but we need the public to support our efforts."

Rotary4foodbanks has set up a justgiving page to make it easy for people to donate.  Because the scheme is run entirely by volunteers it has no overheads.  That means every penny given goes directly to buying food at discounted prices for delivery to local foodbanks.

You can support Rotary4Foodbanks through our JustGiving page