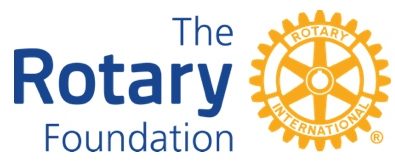 Donating to The Rotary Foundation
Our financial building block is the "Every Rotarian Every Year" campaign for our Annual Fund which provides individual Rotarians with the exclusive opportunity to donate $100 annually to sustain their Foundation and be recognised as Sustaining Members.
Rotary in Great Britain and Ireland responds to this challenge at both the individual and the club level. Many Rotary clubs accept the target of $100 per member and seek to achieve it by a combination of member donations and allocations from their charitable fund raising activities. In addition to contributions made by Rotarians via their club many Rotarians also make direct donations to ensure their Sustaining Member status.
Becoming a Sustaining Member is the first step on the ladder to supporting your charity by donating directly to any of the following funds via The Rotary Foundation of the United Kingdom (RFUK).
The Annual Fund is the primary source of funding for all Foundation activities. Support our efforts year round by making a recurring gift. You choose how often and how much you want to give—it's a simple and secure way to make a big impact.
The Polio Fund solely supports the End Polio Now campaign. Link to Polio Eradication section. Donations are welcomed from Clubs, Rotarians and the public at large.
The World Fund supports Global Grant projects – 1359 in the last Rotary Year
The Disaster Response Fund which is significantly responsible for funding the $32 million Covid-19 support awarded in the last year.
Any of our Area of Focus Fund where you can specifically donate to one of our seven areas of focus.
Individuals or clubs can donate by cheque or bank transfer
Just complete the RFUK contribution form and either send the completed form via email, or post it together with your donation as explained on the form.
(Mac users, please save the form first and open it with a PDF reader programme to complete. The form will not open correctly in Apple Preview).
Donate by regular donation
Why not set up a standing order with your bank to donate to The Rotary Foundation UK on a regular basis. To enable you to do so, please complete the RFUK Standing order form with the requested details and we will send you a unique reference that you can use to set this up with your bank.
The unique reference is required to ensure that your regular donation will be recognised correctly on our system.
Donate online
You can give to The Rotary Foundation UK online using our secure payment option.

Rotary Club Officers are reminded that Gift Aid CAN NOT be claimed on Club Donations. Should you need any further information please contact the RFUK Office.
Your Rotary Legacy
Rotary's tomorrow depends on what you do today. By remembering The Rotary Foundation in your Will, you will help to ensure that the work of the Foundation will continue beyond your lifetime.
As part of any bequest, you can specify which of Rotary's causes you would like to support through your gift to The Rotary Foundation UK.
Alternatively, it can be left to World Fund and used where the need is greatest.
Download the Your Rotary Legacy leaflet.
Choose Rotary for your sponsored activities
Got an event coming up? Or maybe you're taking on an exciting physical challenge? Then you can support The Rotary Foundation with your sponsorship efforts using our Virgin Money Giving page.

Gift Aid
If you are a UK Tax Payer, you can boost your donation by 25% using Gift Aid.
Please complete the RFUK Gift Aid form by clicking here in order to make your donation go further.
Donations made through third parties incur transaction charges to the charity.
Privacy Statement – Your Personal Information
Rotary Foundation of the United Kingdom (RFUK, a charity – No. 1002059 – and limited company – No. 2582374 – registered in England), is an associate Foundation of The Rotary Foundation (TRF) of Rotary International Evanston, USA. RFUK collects personal information about you to process your donation and, where applicable, Gift Aid. Some of your personal information is shared with The Rotary Foundation/Rotary International for the maintenance of donation records. Upon creation of an account, you will be able to view your donation records online via Rotary International services. Your information will be processed in accordance with the Rotary privacy statements. RFUK will not sell, trade or share your personal information with non-Rotary third parties nor will it send you mailings on behalf of other unrelated organisations. Details of the full privacy statements for RFUK may be found here and Rotary International may be found here or copies can be requested from our office at: RFUK, Kinwarton Rd., Alcester, B49 6PB, tel: 01789 765411, email: rfuk@rotarygbi.org