Rotary Clubs in the Chesterfield area are set to celebrate St Georges Day with a special dinner in honour of England's patron saint.
This social event is being held at Chesterfield FC's Proact Stadium on St Georges Day itself, which is Wednesday 23 April 2014, 7.00pm for 7.30pm.
A traditional English meal of soup, roast beef, apple pie, cheeseboard of English cheeses, and coffee, also includes the historic 'Ceremony of the Roast Beef', which dates back to medieval times. As well as the toast to England and St George, there will also be an Englishness table quiz, mystery entertainment, and a good old singalong of English anthems.
Rotarians, their partners, friends, and Inner Wheel members, from ten local Rotary Clubs in North Derbyshire are joining together in this national day of celebration for our great country – England.
Lead organiser, past-president Geoff Mitchell of the Rotary Club of Chesterfield, said: "The Irish, the Scots, and the Welsh quite rightly all have their own national celebrations but for some reason the English seem a bit reticent about celebrating Englishness."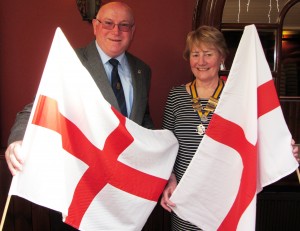 He continued: "This year we are doing our bit to 'raise the flag' and hope that others will join in with their own national celebrations that could even extend the patriotic spirit through into the summer in support of the England footballers at the World Cup in Brazil."
Tickets for the Rotary event cost £25 per head – dress is lounge suits. An allocation of tickets has been set aside for non-rotarians who are very welcome to attend – contact Geoff Mitchell via email at chesterfieldrotary@hotmail.co.uk