Two local Rotary clubs have joined forces as part of a £100,000 charity support campaign to supply foodbanks across the region. And, says Sandra Edwards, Project Manager at Doncaster Foodbank based at Christ Church on Thorne Road, the support couldn't have come at a better time as she and her team of volunteers strive to meet the soaring demand for its emergency food parcel service.
A recent Rotary delivery to the Doncaster Foodbank's warehouse at Kirk Sandall included vital bulk supplies of tea, coffee, porridge and tinned fruit to restock shelves depleted as a result of a 40% increase in demand for food from individuals and families in Doncaster in the past month alone.
"In the past twelve months prior to the lockdown we have provided food for over 5500 people. Almost 2000 of those were children who, without our input, would have gone hungry," says Sandra Edwards. "We expect those numbers to increase significantly as the impact of Covid-19 and the downturn in the economy bite still further, impacting hardest on people already struggling to cope.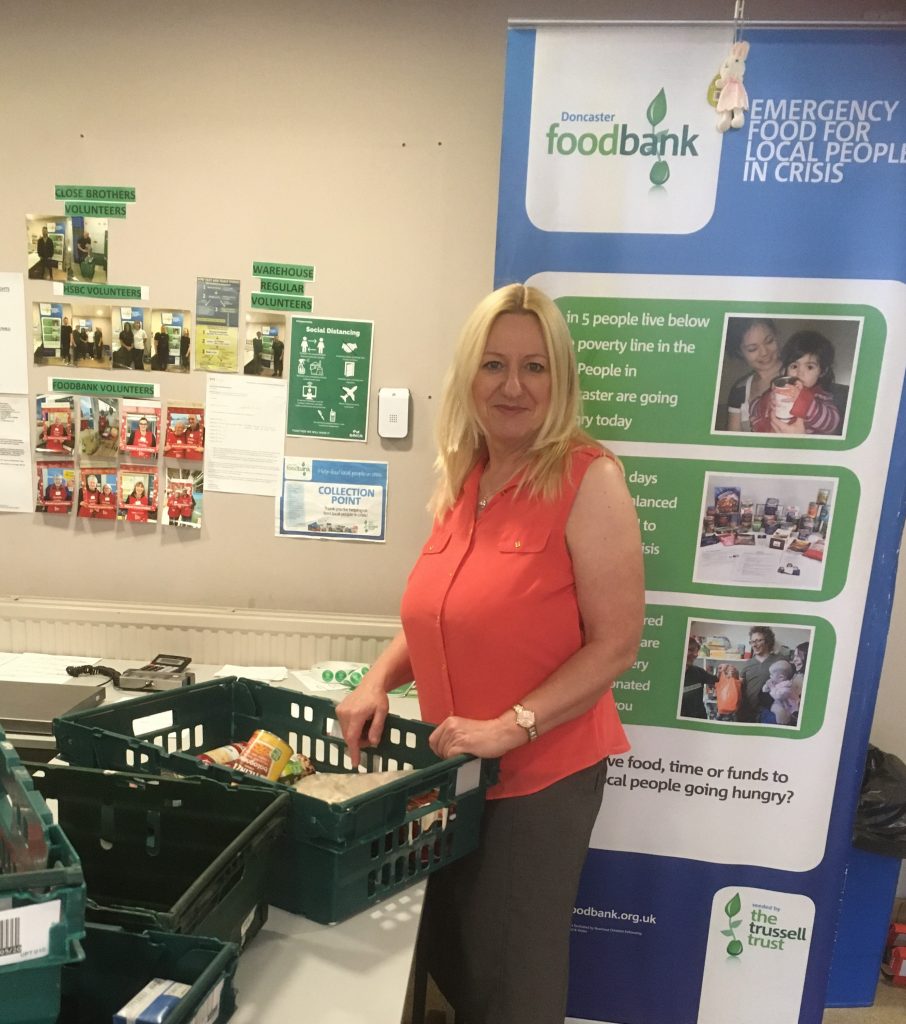 "We get fantastic support from local supermarkets and the general public but having a major charity organisation like Rotary stepping in to help too, provides us with another precious lifeline."
The Rotary4Foodbanks scheme, run entirely by volunteers, is an East Midlands and South Yorkshire initiative which pools funds and bulk buys staple food supplies at wholesale prices which it distributes to foodbanks across the region. By the end of July it will have distributed food with a wholesale value of around £100000 and has plans to extend the scheme as demands on foodbanks continue to rise.
Doncaster St Leger Rotary Club has partnered with its sister club, Doncaster Rotary, to support the scheme. Says Lis Rodgers, of St Leger: "We could see that the Covid-19 pandemic was having a devastating effect on some of the most vulnerable people in our community. We knew of the excellent work that Doncaster Foodbank was doing and so pledged to help. As part of the bigger Rotary4foodbanks initiative to bulk buy, the money we donate works harder, goes further, to help ensure no-one in the borough goes hungry."
The club is well known in the borough for its charity work.  Amongst many other initiatives the St Leger Rotary Club also supports the local Firefly Cancer Awareness and Support charity.  The club recently made a £700 donation to help keep Firefly's services running during lockdown.
Support the scheme by sharing this article and donating on our Just Giving page

Rotary4foodbanks is a Rotary response to the growing demands on foodbanks in the UK. Initially operating in the East Midlands and South Yorkshire, it is attracting interest from Rotary across the UK. Whilst it was launched in response to the Covid-19 crisis, it is actually a long-term initiative to deliver a sustainable, cost-effective food sourcing programme for foodbanks.
You can support Rotary4Foodbanks via our JustGiving page
Doncaster foodbank
Part of the Trussell Trust, Doncaster Foodbank operates out of Christ Church, Thorne Road, Doncaster, DN1 2HG
It distributes food – primarily three day parcels of balanced nutritious food for individuals and families – between 10am and 12 noon on Wednesdays and Fridays.
It is run primarily by volunteers and depends on donations and support from supermarkets, businesses, individuals and other charities to complete its vital community work.
In the past year it has served over 5500 people of whom almost 2000 were children.
To volunteer, donate, or find out more about its services, visit https://www.doncaster.foodbank.org.uk/
Doncaster St Leger Rotary Club
One of three Rotary Clubs in Doncaster, St Leger has 35 members from all walks of life who are committed to charity work locally and internationally.
Contact: Dr Lis Rodgers lis.rodgers@gmail.com