Two Belper young people Xanthe McAughtrie 10yrs and brother Sebastian (Seb) 9 have been part of a local Rotary scheme to fill shoe boxes with toys, clothes and put them with love into shoe boxes to bring the spirit of Christmas to vulnerable children.
Xanthe and Seb along with local Rotarians, Belper Central Methodist church, and the Women's Institute to fill and collect 46 boxes to send to eastern Europe through the Teams4U international and development charity.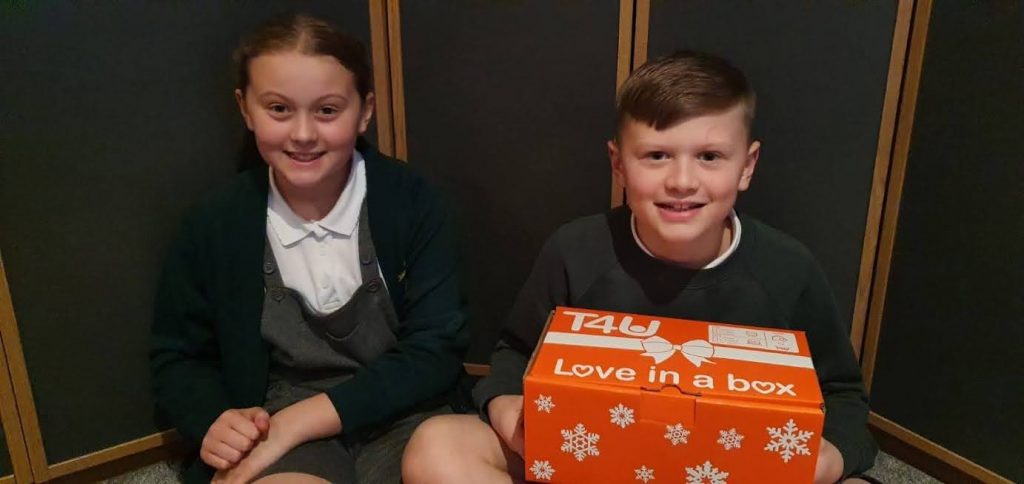 Xanthe and Seb live with their mum and dad in Belper and attend Belper St Johns School. Grandfather and Rotarian David Ashley said, "It's good to encourage young people like Xanthe and Seb to think about less fortunate people."
Rotarian and local organiser John Scotney said, "The shoeboxes will go abroad. I know it's a difficult time here but for some of the world's poorest families the situation is dire, and a small box of gifts sent with love can at least raise a smile."
This year the shoeboxes will go to vulnerable people in Belarus, Bosnia, Moldova, and Romania. Boxes are filled for age groups, 3-5, 6-11 and 12+ years with such things as toothbrushes, toothpaste, hair accessories, socks, underwear along with treats such as toys, games and sweets and may even have a photograph of the donors. Boxes are then collected in Belper and Duffield by John Scotney who delivers to a collection point in Derby organised by Rotary Club of Derby. From there they go onto a national Teams4U warehouse for transport to their destinations in eastern Europe.
John said, "Forty-six boxes have been delivered to the Derby Rotary Club warehouse in Derby. That is 46 smiles that would not otherwise have happened. A big well done to Xanthe and Seb and the people in Belper and Duffield."
Background
Derby Rotary Club have organised a collection point for Teams4U Christmas shoeboxes for several years.
Teams4U is a national charity set up by Dave Cooke, who has nearly 30 years' experience working within international relief and development. In 1990 Dave was moved by the needs of the Romanian children he saw on the TV screen, so he put teams together and took aid to Romanian orphanages.
In 2006 Dave founded Teams4U to enable many others to be able to have the opportunity and experience of working with and supporting vulnerable children and their families. "I set up Teams4U because I wanted to give people that wanted to help the opportunity to give more than just money"
Teams4Uto help give support to vulnerable children and their families including sending Christmas shoeboxes to vulnerable families. It has expanded in several different countries, supporting various projects through partnerships with local individuals and organisations.
Over the next 3 – 5 years the charity's aim is to develop long-term integrated programmes for their partners; building their capacity and capability to improve the lives of the vulnerable children with whom they work.
Teams4U website – https://teams4u.com/our-story/