Author Archive
History has been made with the largest expansion of Rotary in Chesterfield for 36 years with the setting up of a new satellite club by the Rotary Club of Chesterfield.  The first ten founder members of the newly formed Rotary Satellite Club of Chesterfield (Central) were inducted into Rotary International by Chesterfield Rotary president Ian Gaunt at the club's monthly meeting held at Brampton Manor, Chesterfield, on Wed 25 May 2016..  A further four founder members are to be inducted next month.
District 1220 Governor Dr Roger Summers, along with DG Elect Colin Gell, District Secretary Dr Jill Bethell, MBE., District Membership Services & Extension Chairman Colin Fox, and members of the Chesterfield club, were also in attendance to welcome the new Rotarians into the worldwide movement of Rotary International and wish the new club well.
The last significant expansion of Rotary in Chesterfield was in 1980 when the Chesterfield Rotary Club was instrumental in setting up the Rotary Club of Chesterfield Scarsdale.  The new satellite club aims to be a new way of doing Rotary for busy younger business people from all walks of life who want to use their expertise to help their local community, and have fun doing it.
For more information about the Rotary Satellite Club of Chesterfield (Central) contact secretary
John.nettleship@brmlaw.co.uk or ring 01246 555111.
Music In The Gardens, started as a small idea organised by the Rotary Club of Sheffield which was to put on a small, live music concert in the Botanical Gardens to raise funds for local charities. Originally, Jazz in the Gardens was a one day, low key event. Since then, driven by customer demand (and certain economies of scale), Music in the Gardens has grown into an event recognised not only within Sheffield but now nationally as a special series of music concerts in the entertainments calendar.
So what is special about Music in the Gardens? It is four evenings of music featuring world recognised top artists at realistic prices. It is an evening picnic in beautiful surroundings. Bring a chair or blanket and sit in the lazy evening sunshine and soak up fabulous music whilst enjoying a picnic, a plate of something hot from our high quality food stalls, a good honest pint of real ale from Bradfield Brewery or a glass of something fruity in the company of people with whom you can unwind. It is a music festival for those people who do not fancy the idea of attending a music festival!
Music in the Gardens is now in it's 12th year and is organised by the combined efforts of Rotary Clubs from South Yorkshire and North East Derbyshire. The event is designed to be a major event on the social calendar and be a major community event and fundraiser for various local Charities.
Each charity is also responsible for organising a bucket collection during the interval, to help boost its income. So please, bring lots of loose change – the folding type would be good! Each evening, in addition to having a great time, you will be making a major difference. Because of the help we receive in hosting the event, The Botanical Gardens Trust also gets a donation which goes towards the Gardens development.
To date, Music in the Gardens has raised more than £220,000 for local, national and international charities and projects.
The lineup for 2016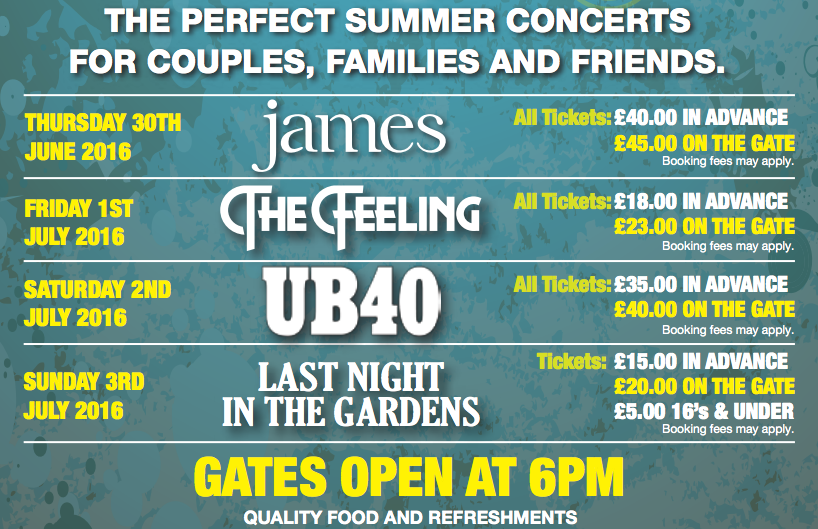 Please visit the Music in the gardens website for further information  musicinthegardens.co.uk
An exciting new Rotary venture has been launched by the Rotary Club of Chesterfield to enable busy younger business people in the town to help others.
The new Rotary Satellite Club of Chesterfield Central, which will meet monthly, has been launched by a group of up to fifteen interested local men and women who, despite being time poor, aim to use their variety of skills to offer help and support to the local community.
This brand new concept in Rotary recognizes that busy professionals in today's workplace want to do things differently, with less formality, and enjoy a fun social program as well. The new club, which is now set to choose its own projects and priorities, is also part of the worldwide organization of Rotary International. The Rotary Club of Chesterfield will provide any Rotary guidance as required by the new Rotarians.
The new officers of the new club appointed at the launch meeting are chairman Peter Blant (Cheetham Jackson – independent financial planners), secretary John Nettleship (BRM Solicitors), and treasurer Martin Swain (Stopfords – chartered accountants).
The club is due to meet early evening at the Calabria Italian Restaurant in Chesterfield once a month at 5.30pm, and the next full meeting is on Wednesday 20 April 2016 when future plans for projects, fund-raising and further recruitment will be on the agenda.
Potential members can obtain more details from rob.woodhead@brmlaw.co.uk or ring 01246 555111.
This  year's event is rapidly approaching  and is on Sunday  April 24th  and once  again is at the Robert Ludlam Theatre Derby  commencing at 19.00 :
Tickets are now on sale , however due to the expansion of the District and limited capacity of the theatre  it's no longer practical to distribute to clubs on 'sale or return. For the first time they're being sold to order  on a 'first come first served' basis ,so to buy for your club, please contact John Hall ( Amber Valley) preferably by email at jehall@talktalk.net  or by phone on 01773 540001
Performer Nominations : As the date rapidly approaches we need your nominations as  quickly as possible  which need to be on the  nomination form you can find  together with any other information you may need  on the website at   YOUNG MUSICIAN NOMINATION FORM . If  though your club is still in the process  of selection it will  help in planning if you could advise Terry  Clay (Melbourne)  accordingly that a nomination  is  pending . Contact him at clay42@btinternet.com  or on 01509 672057
Stop Press! Performing on the evening as a guest  will be Benammi Swift who enthralled  last year's audience with his stunning versatility  on the  melodeon . This year's performance  comes just 4 days before Benammi  appears at the annual BBC Folk Awards  held at the Royal  Albert  Hall  on Wed April 27th . Benammi has been nominated as a finalist in the category 'BBC Radio Young Folk Award' .Broadcast live on the night  on both BBC iPlayer and Red Button  plus on Radio 2 , Benammi will perform live during the interval with the other three nominees in his category and we  wish him all the luck that his talent deserves